About Us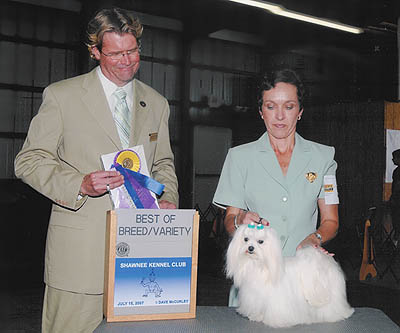 I am Tammie Ford of Pnderosa Reg'd Show dogs.
I show and breed yorkshire Terriers & Pomeranians. I have loved these 2 breeds since 1991. I have expanded my 4 legged family in 2004 to include 2 chinese cresteds of which I now have my 1st champion, and in 2006 I have 4 maltese who have joined the Pnderosa Gang. My boy "Magic" is currently showing. Our other boy Zach hopefully one of the girls will be starting their show careers in the 2007. I began showing in 1996 professionally handling dogs for others in 2005. I show most toy breeds. Pnderosa Show dogs are located in the foothills of North Carolina.
I have had my own businesses for over 25 years. I decided in September of 2005 to go into a business that was in line with the thing I loved most .... Dogs, so I opened a pet product business known as Pnderosa Products in January of 2006. In the product line we carry all the items I use on my own dogs and showdogs. Things that are used by breeders around the US but not commonly found in retail markets. I also carry many breed related gift items for the dog lover. I can run this business from my home, to give me more freedom and time for my dogs and their needs. The product business can be found and is an online store at PnderosaProducts.com. In addition items from Pnderosa Products can be found at some dog shows, where I set up a vendor booth at many shows. I also have been designing websites since 1997. I began grooming in addition to these 2 businesses to support my dogs and showing habit.


My mom is very important part of my career. She and her husband Ron are retired now and we live next door to each other, so it is easy for me to keep my dogs and do whatever is needed for them. My mom and I started raising them together in 1991. I couldn't show dogs if it weren't for her as she comes in and feeds the ones that live in my house and takes care of them while I am away at shows on weekends. She also helps me with maternity watch on our pregnant girls. Spending days and nights barely sleeping to watch them when their time is close, which helps me more than I would ever be able to repay her for. I have a son "Trent" who lives at home now and also helps me and my mom with the dogs while I am away at shows.



Friends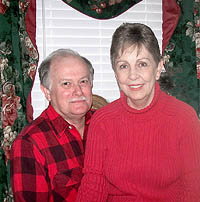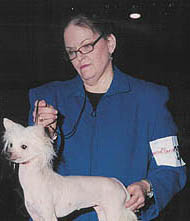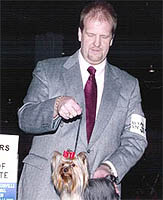 Jerry & Sylvia Shumake ------- Kathy Davis ------ Mike Blevins
Jerry, Sylvia, Kathy & Mike are all good show friends of mine. All have been friends for many years and I co-own dogs and have done breedings between some of their dogs and mine. It is hard to find good friends who will be there for you when things are bad, as well as good and I consider myself very lucky to have these people as friends.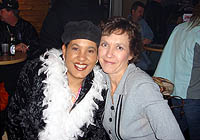 Linda Dawn started out as a client whom I showed a yorkie for. After getting to meet her and her family.... Husband Steve, Boys Brandon, Justin & Ryan they all became great friends and an extended part of my family. She has several Pnderosa babies and we co-own several dogs together.
I had the honor of being her matron of honor when she and Steve
renewed their wedding vows in Dec. 2006
Here are some of the cherished wedding, rehearsal and reception photos of some of the wonderful new friends I have made and found in Maryland..... Linda & Steve, Allan & Marian, Tammy, Brandon Lee, Johnny Reed, Billy.