Dedication Page

Cambridge's Charisma
"Charisma" (Major Pointed)
3/8/99 - 3/7/05
Charisma went to Rainbow Bridge during surgery giving life to her last litter of babies.
She was deelply loved by all who knew her and is missed so much.
She showed me joy and happiness. She left her legacy behind in her children:
Ch. Pnderosa Dynasty Diva Of Annstef
Ch. Hilcrest-Pnderosa Joint Custody
Her Grandchildren:
Pnderosa N Showtime's Sweet Music
Rinker's Royal Ruby At Pnderosa
Sonnel's Thelma At Pnderosa
Sonnel's Louise At Pnderosa
Pnderosa's Royal Castle Of Giovanni
Pnderosa's I'm A Diva Too
Charisma's Special Dedication Page
Click here to view...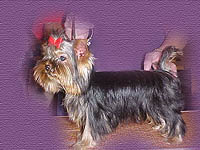 Pnderosa-Zydeco WtsNu PussyCat
"Kitty"
RIP 8/4/10
Out of Nicky & April. Kitty will always hold a special place in our hearts. We miss her little talking antics and Punkin misses her best friend.


GOD'S LITTLEST ANGELS
Oh little one, the angels sing,
You brought such joy to everything
Your little eyes wee open wide
You tried to lay by mama's side
I watched you when you did sleep
How my heart can only weep
So tiny and small you are
The heavens have another star
God touched my heart and said, can't you see
I'm calling this angel back to me
to look upon you every day
To bless you as you make you way
Through this life, your not alone
Your littlest angel, will guide you home.
**************
Dedicated to all the puppies that God
has called back home so soon.
Author: Patrice TLPHD@aol.com
(Thank you Patrice for the poem)



Ponderosa's Little Cassanova (10days)
"Casey" R.I.P. 10/8/98 - 11/6/98
Casey was born on 10/8/98 at only 2oz.
He couldn't nurse because of a ridge in the
roof of his mouth so was fed with a tube and bottle
until he went to rainbow bridge at 4 wks. and was only 4oz's.
I LOVE HIM AND MISS MY LITTLE MUNCHKIN
VERY MUCH!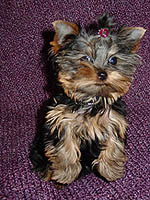 Chloe -- R.I.P.
11/23/02 - 3/11/03
Chloe's was dearly loved by her mom and dad for the short time they had to love her.
She was less than 2 lbs and her life cut short at 16 weeks after a visit to the vet. Chloe was given a puppy booster shot with lepto and a rabies vaccination, while being on medication for an upper respiratory infection for the past 10 days. Blood work was done and nothing found except an elevated level of toxins.
Chloe you were loved in this life and are still loved in our hearts.
You will never be forgotten.
Chloe's mom wants to warn all new mom's and dad's to never let a vet give your baby vaccinations while they are on any antibiotics being treated for any type of infection.
We at Ponderosa do not use and do not recommend giving Lepto in vaccinations to toy dogs, but especially never to puppies. And we always recommend that there be a 2 week period between a booster vaccine and a rabies vaccination.



Ch. Velvet Touch Lil' Wrangler
"Wrangler"
5/5/1998 - 5/30/2004
Sire: Ch. Jan-Shars Sinbad Of Velvetouch
Dam: Velvet Touch Ms Ecstasy
(Click on Wranglers Picture to go to his page)
Wrangler was taken to soon from us. We had the pleasure of owning him and receiving his love less than a year but I will treasure his memory, and will always remember and cherish him in my heart forever. He was taken from me from a large intramedullry bleed in the cerebrum.
(A blood vessel that busted and bled into his brain causing swelling and seizures).
He was the sweetest boy I have known and I will miss him dearly. I pray his son Rudy will be able to take over and fill his dads shoes when he is grown.



Fords Outlaw Bandit
"Bandit"
2-7-1992 - 1/6/2005
Bandit went to Rainbow Bridge with his last days doing what he loved to do... Being in charge of the play yard, and enjoying life. He was my first love and I will miss him.
Every day I see your smiling face in my memories and I cherish the 13 years of Love we shared. I miss you dearly my little Bam Bam



Pnderosa's Snow Princess
"Princess"
4/22/05 - 6/25/05
Sire: Nicole's Sweet Oreo Cookie
Dam: J And R's Oreo Cookie



Ponderosa SandCastle Of Hilcrest
"Cassee"
11/17/01 -7/2/06
Sire: Hilcrest's Out For Justice
Dam: Hilcrest Ruffles Of Ar-Bee's
Cassee's tragic death came just a couple hours after c-section surgery & spay. She had not even come out of the anesthesia more than to be able to move her eyes when she went into shock or had a seizure and her heart stopped. CPR failed although I tried desperately for 15 minutes but she was gone. I hope she has found peace and can rest at ease knowing her 2 newborn babies were taken in by one of the ponderosa moms to raise with her 2 yorkie babies.


Nayla
2/28/03 - 8/28/07
Nayla lost her life while having her teeth cleaned. She was my special little girl of only 3.5lbs.
I was told that to small of a breathing tube was used and she suffocated!
Nayla will always be remembered and loved by me her breeder.
Annie Rodriguez


Pnderosa's Charismatic Crissy
"Crissy"
3/21/2009
Sire: Ch. Stringer's Source
Dam: Cambridge's Charisma
(Click on CC's photo to go to her page)
Crissy's Pedigree


Jimmy "Nebo" Husker
We brought home one of your little yorkie fellas in 1998.... I've attached the last pic we got of Nebo from this June…he passed away Nov. 5, 2009. Our little guy was 11 years old.
Our twins, Sam & Lea, got to know & love Nebo…they will turn 7 on December 30th. I'm also going to attach a picture of my kids with Nebo a few years back…they just LOVED him!
Update
We are happy to say the Kolbets have another Pnderosa baby to be with their family, and feel a void in their hearts.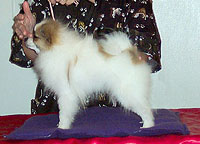 Pnderosa's Parti Favor
"Fe"
RIP 4/7/10
Sire: Hilcrest's Dance With Me
Dam: Hilcrest's Chasity