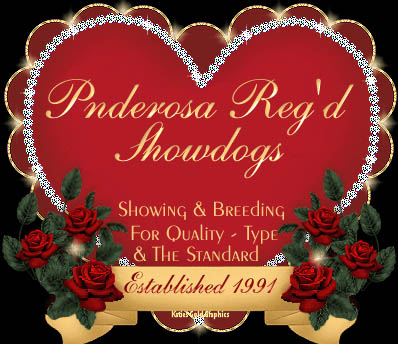 PnderosaShowdogs.com
aka Ponderosas.com



Our Motto:
We Show our dogs with Pride, Breed with care and Raise them with Love



Showing & Raising Healthy, Quality Dogs is our goal
Show or Pet .. Quality and Health is always our priority



We are Tammie & Billy Williams. A husband and wife team with the love of animals.
I started my breeding program in 1991 with my mother.
I met my husband while doing shows in MD and found our common interest
as he had raised and trained GSheph in the past. We are located
in the foothills town of North Carolina known as Granite Falls.
Pnderosa is our registered kennel name through AKC.
Show & Pet puppies occasionally available.
Any available puppies are place in approved show or pet homes on contract.
All pets are placed on limited registration only.
All Pnderosa's dogs are AKC registered.
My Germany visit - click here for photo's and videos



Tammie & Billy Williams
Granite Falls, NC
828-212-0657
Feel free to E-mail anytime
Tammie@pnderosashowdogs.com
I accept calls Monday thru Friday 8:00 am - 6:00 pm (Eastern)
Weekends 9:00 am - 5:00 pm (when I am not at a show).
Please do not call me after 6 pm & I promise not to call you
at 3am when I get up to start my day.


Copyright © 1997 Pnderosa. All rights reserved.
Do Not remove anything from this site without owners permission
Thank you



This site was created by Designs by Diamond
Problems with this site. Email Our Webmaster