Currently Showing for Ponderosa

The Boys of Ponderosa

)
Ch. Stringers Source
"Cole"
Sire: Ch. AJ's Annstef's Joint Venture
Dam: AJ's Bloomin Chrissy Blue
Breeder: Anna Stringer
Pedigree
(click on Cole's picture to go to his page)


Pnderosa's Saving The Last Dance
"Danny", Pointed
Sire: Ch. Hilcrest-Pnderosa Joint Custody
Dam: Destiny's TN Waltz For Pnderosa
Breeder/Owner: Tammie Ford
Co-Owner: Amanda Holt
Danny's Pedigree

Pnderosa's Our Man Of The Hour
"Armani"
Sire: Pnderosa's Rapid Fire
Dam: Sonnel's Thelma At Pnderosa
Pedigree

Pnderosa's Cotton Eyed Joe
" CJ"
Sire: Ch. Stringers Source
Dam: Destiny's TN Waltz For Pnderosa
Pedigree

The Girls of Ponderosa

Pnderosa's Annie Oakley
Sire: Ch. Zydeco's Cuervo Gold
Dam: Pnderosa's Mirror Image Of Simon
Annie's Pedigree

Pnderosa's Risking it all on Ricky
" Richelle "
Sire: Sonnels I'm A Traveling Man, pointed
Dam: Pnderosa's Play'N Dusk To Dawn
Pedigree

Sonnel's Thelma At Pnderosa
"Thelma"
Sire: Ch. Hilcrest-Pnderosa Joint Custody
Dam: Ch. Sonnel's LadyBug Of Ponderosa
Thelma's Pedigree

Pnderosa's Little Secret From Rinkers
"Secret"
Sire: California Wild's Blue Wisper
Dam: Rinker's Adventuress "Alyssa"
Secret's Pedigree

Pnderosa Remembering The Past
"Riana"
Sire: Pnderosa's Saving The Last Dance
Dam: Pnderosa's Annie Oakley
Riana's Pedigree

Pnderosa's A Cole Miners Daughter
"Cissy"
Sire: Ch. Stringers Source
Dam: Pnderosa's Annie Oakley
Pedigree

Pnderosa's Bed Bug


"Punkin"

Ponderosa's Gotta Love Me aka "Punkin"
My heart and special 2lb girl
(Click on Punkin's picture to go to her page)

Punkin went to Rainbow Bridge 2/4/2011
She took with her my heart.

Retired


Ch. Pnderosa Dynasty Diva Of Annstef
"Dynasty" aka "DD"
Sire: Ch. AJ's AnnStefs Joint Venture
Dam: Cambridge's Charisma
DD's Pedigree
(Click on Dynasty's picture to go to her page)
"Retired" 2010


Pnderosa-Zydeco Queen O Th Nile
"Cleopatra", Pointed
Sire: Ch. Zydeco's Cuervo Gold
Dam: Avant's Rhapsody Of Ponderosa
Cleopatra's Pedigree
(Click on Cleopatra's photo to go to her page)
"Retired" 2012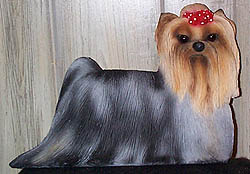 We are proud to announce Our girl Charisma is the model for
KC Creations over the door and window flat back sculptures. They are located in Yellow Springs, Ohio.
Their new line of dog breed sculptures will be coming out in their Jan '03 catalogue.
If you are interested in purchasing a Yorkie Sculpture you may contact
Diane DeBolt at cddebolt@donet.com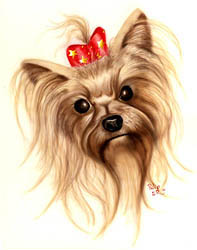 Pnderosa's Krisp Winter Kiss
"Little Kris"
Airbrush Painting done by
Philip R. Rogers of Art by Philip
Visit Philips site to inquire about getting a commissioned painting
of your favorite pet or showdog. Head & Full body paintings available.



Show Breed Profile Yorkshire Terrier Toy Group
Yorkshire Terrier Breed Standard
Toy Group

General Appearance
That of a long-haired toy terrier whose blue and tan coat is parted on the face and from the base of the skull to the end of the tail and hangs evenly and quite straight down each side of body. The body is neat, compact and well proportioned. The dog's high head carriage and confident manner should give the appearance of vigor and self-importance.

Head
Small and rather flat on top, the skull not too prominent or round, the muzzle not too long, with the bite neither undershot nor overshot and teeth sound. Either scissors bite or level bite is acceptable. The nose is black. Eyes are medium in size and not too prominent; dark in color and sparkling with a sharp, intelligent expression. Eye rims are dark. Ears are small, V-shaped, carried erect and set not too far apart.

Body
Well proportioned and very compact. The back is rather short, the back line level, with height at shoulder the same as at the rump.

Legs and Feet
Forelegs should be straight, elbows neither in nor out. Hind legs straight when viewed from behind, but stifles are moderately bent when viewed from the sides. Feet are round with black toenails. Dewclaws, if any, are generally removed from the hind legs. Dewclaws on the forelegs may be removed.

Tail
Docked to a medium length and carried slightly higher than the level of the back.

Coat
Quality, texture and quantity of coat are of prime importance. Hair is glossy, fine and silky in texture. Coat on the body is moderately long and perfectly straight (not wavy). It may be trimmed to floor length to give ease of movement and a neater appearance, if desired. The fall on the head is long, tied with one bow in center of head or parted in the middle and tied with two bows. Hair on muzzle is very long. Hair should be trimmed short on tips of ears and may be trimmed on feet to give them a neat appearance.

Colors
Puppies are born black and tan and are normally darker in body color, showing an intermingling of black hair in the tan until they are matured. Color of hair on body and richness of tan on head and legs are of prime importance in adult dogs, to which the following color requirements apply:

Blue: Is a dark steel-blue, not a silver-blue and not mingled with fawn, bronzy or black hairs.

Tan: All tan hair is darker at the roots than in the middle, shading to still lighter tan at the tips. There should be no sooty or black hair intermingled with any of the tan.

Color on Body
The blue extends over the body from back of neck to root of tail. Hair on tail is a darker blue, especially at end of tail.

Headfall
A rich golden tan, deeper in color at sides of head, at ear roots and on the muzzle, with ears a deep rich tan. Tan color should not extend down on back of neck.

Chest and Legs
A bright, rich tan, not extending above the elbow on the forelegs nor above the stifle on the hind legs.

Weight
Must not exceed seven pounds.
Revised: April 16, 2013.



Copyright © 1997 Pnderosa. All rights reserved.
Do Not remove anything from this site without owners permission
Thank you



This site was created by Designs by Diamond
Problems with this site. Email Our Webmaster