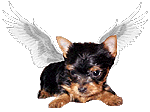 This is Gilly Gilbert.
He is a Yorkshire Terrier and was born on May 18th, 2000,
seven years to the day that Jasper's daddy went to Heaven.
Gilly is our mascot at The Jasper School.
He loves to dance and to keep time to music.
He is our littlest Angel.

R.I.P. Little Gilly Gilbert
May 18, 2000 - October 6, 2018
Forever in Our Hearts

Please click below to see a video of me.

Copyright © 2000. All rights reserved The Jasper School Of Dance.
Do not take any graphics or photos's from these pages
for public or private use, without permission from the Owner
--Thank you --
Site Created by: Web Designs by Diamond
Problems with our site contact our Webmaster