AKC/NCA/UKC GRAND CHAMPION
Carmylie Nandina 'Scuse My Dust, Can Pt.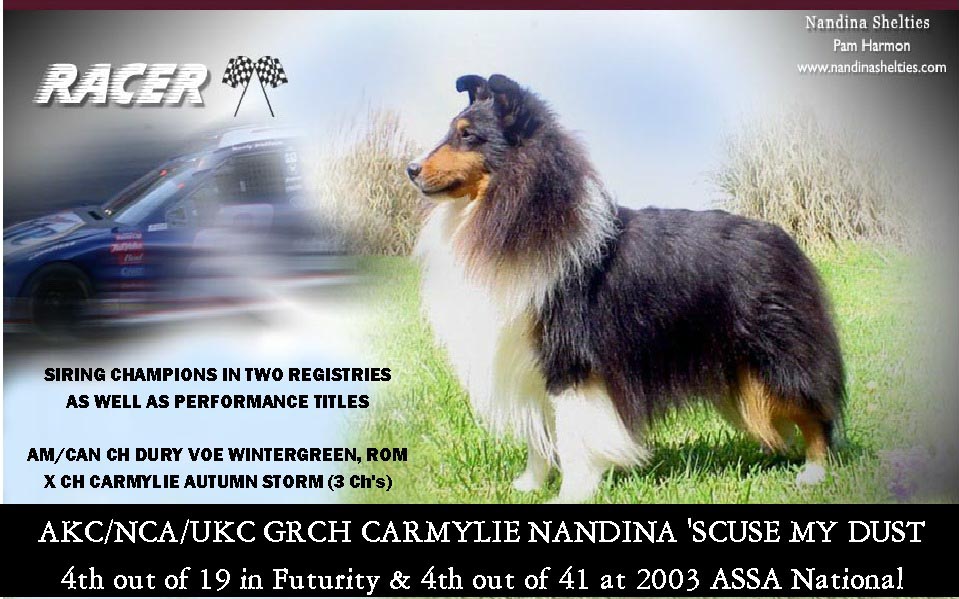 Hear Ye ....Hear Ye

We are so PROUD to Announce Racer's Daughter Keira,
Picked up TWO NEW TITLES March 2, & 3rd 2013
INTERNATIONAL CHAMPION IN VENEZUELA!!!
INT'L/LIBERTADOR/VECH NANDINA'S ALL THE RAVE, aka Keira
Go to the link below to read all about Keira's Show Record:

Racer shown as a Veteran at the
Triangle Shetland Sheepdog Specialty
November 12th & 13, 2011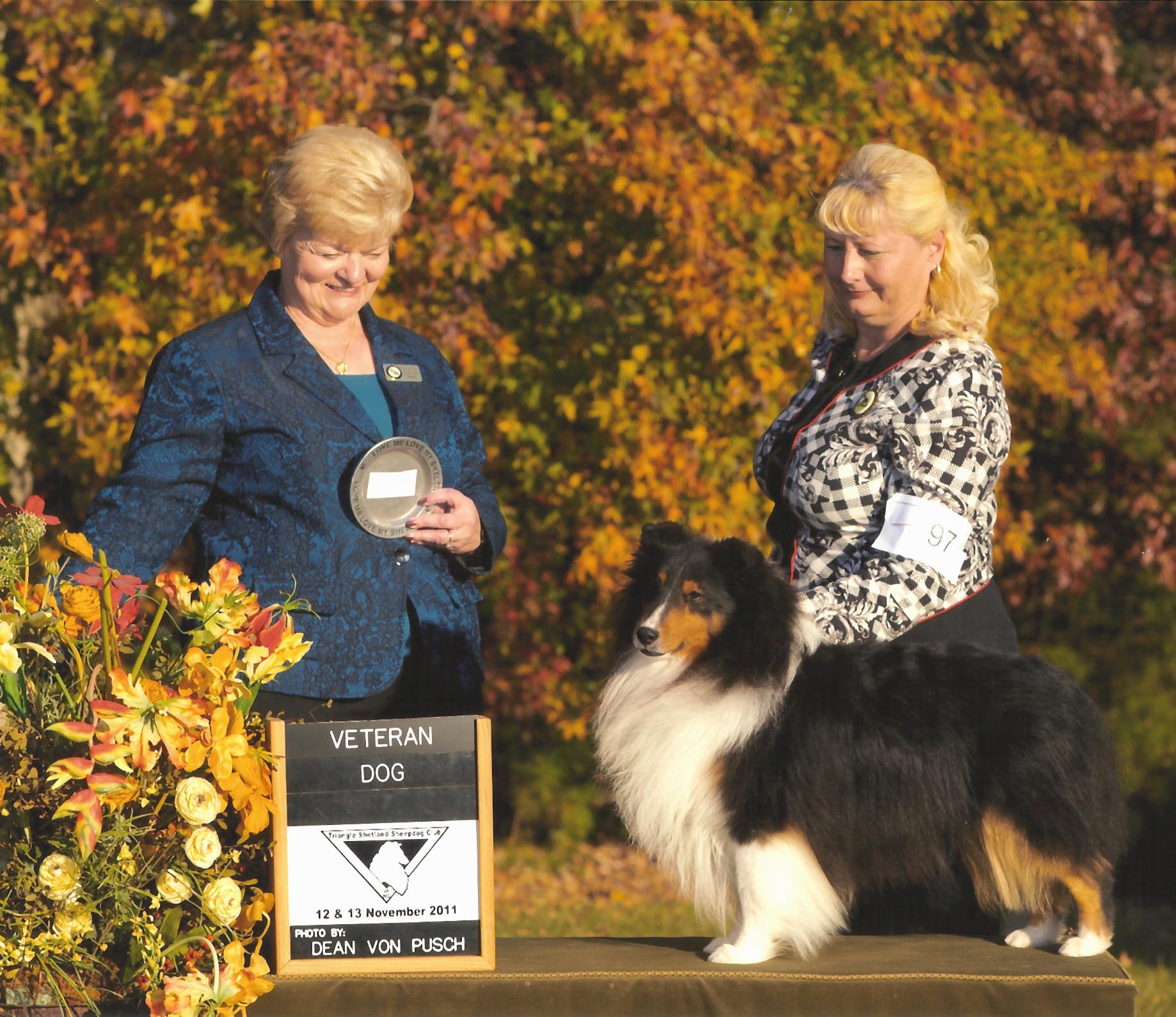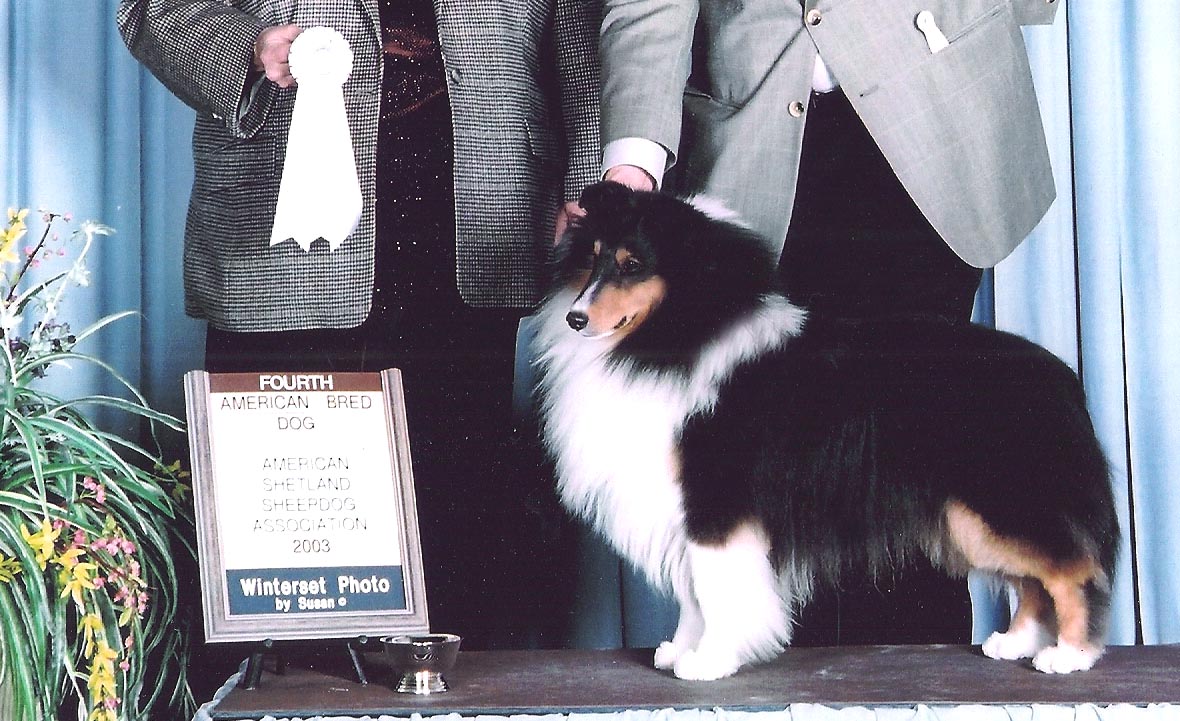 "Racer"
Racer began his show career at the 2003 National in Lansing, Michigan.
Placing 4th in Futurity out of a class entry of 19 under Breeder/Judge
Sharon Parrish & 4th in American Bred out of a class entry of 41, under
Breeder/Judge Marjorie Tuff. We are very honored that both these
well respected judges showed their appreciation for Racer.
Just a few days after the National Racer went on the road with
Sunway Presentation picking up his first point on May 9th,
returning home in July at the tender age of 20 months old with his
new AKC Championship title! Our hearts said be still....as this
whirlwind of a dog won the hearts of the judges and his handlers!
Racer holds Best of Breed wins as well as Group placements in AKC, UKC,
and NCA venues in addition to 3 National Canine Association Best In Show's!
Racer finished his UKC Championship in one weekend on March 30, 2008. Racer
garner his UKC Grand Championship Title in just 5 shows, finishing
at the Tar Heel Kennel Club event in Winston-Salem, NC on
April 11th 2009 under respected Judge Melissa Kidd.
Racer is non-white factored, standing at a moderate 15". He excels in overall
balance, clean strong effortless movement, with a nice easy flowing side gait,
deep chest, nice rich prosternum and sound in mind and body. His head piece
is clean with beautiful finish of muzzle, and full dentition. His attributes
are his warm loving nature, gentle spirit with an outgoing attitude
all of which he is passing down to his offspring.
Sire: AM/CAN Ch Dury Voe Wintergreen, ROM ROMC
Dam: Ch Carmylie Autumn Storm ROM
View more about Racer's show career by Linking to
his own page from the Gentleman's Page.